---
Page updated: 21 October 2003
---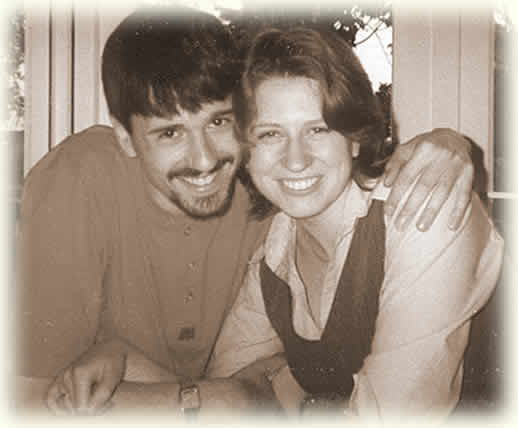 Thus far, we have agreed on a date, a time, and a venue: Saturday May 17 2003, 4pm, Sutton Bonington Hall.
We have also booked a photographer: His name is Marcus.
A posse will be descending on Sutton Bonington Hall soon, and we will work out suitable places to stay nearby. If all else fails, there are lots of fields around for those of you with camping equipment.
September 2002
---
Charlotte and her mum spent Monday 16 September shopping for a suitable wedding dress. They have chosen (but not purchased) the outfit (don't ask me, I didn't make the arrangements). However all details about the wedding dress will be kept a secret until the day – some kind of news!
Charlotte and her mum went to a wedding dress sale on 5th October to purchase the chosen dress or one similar but could find nothing they liked amongst the thousands of dresses available.
Charlotte and her mum chanced upon a wedding dress that looked nothing like the one already chosen. She tried it on for her father, who should be recovering any day now. They bought the dress on the spot but will still say nothing about it.
October 2002
---
On Sunday 3rd November, various relatives descended on Sutton Bonington Hall and expressed their approval, which is just as well as we have already paid for the place.
We found a hotel 5 minutes away (3 hours and 5 minutes following someone's scenic route – mentioning no names, so as not to embarrass Charlotte's Mum).
We have also put online three video clips taken from the engagement party (thanks to Chas).
November 2002
---
Tom finally got round to asking his uncle Jon to be the best man at our wedding. Jon has been the best of friends for many years and we are both very pleased he has accepted.
All invitations are now printed – now we just need to work out where to send them. We are still working on the guest list and trying to remember which fool decided sixty places was plenty.
On 3rd December, we saw the local registrar and are now working on our pick 'n' mix wedding ceremony. All suggestions welcomed.
December 2002
---
On Saturday 18 January, Charlotte took her sisters shopping for make-up and found perfect wedding shoes but did not buy them. The following Saturday, Charlotte bought her shoes and Tom hired his suit.
All invitations are now printed – some have even been sent. And we have already had some replies.
The entertainment for the evening has now been booked: Tom's dad. He will be accompanied by a second guitarist and a boran player.
Our official witnesses will be Tom's father; Tom's uncle Jon; and Charlotte's two sisters, Kathryn and Victoria.
We are currently working out what will happen on our wedding day – or at least, what we hope will happen. We have also put up some information about where to stay and how to get there.
January 2003
---
We have chosen our honeymoon: we will be staying at Casa Mimosa, near Pisa in Northern Italy. The flights and villa have been booked and now we just need to work out how to pay for it – all contributions welcomed.
The guests list for the ceremony itself is almost finalised – we are just awaiting a few final confirmations. Now the day guests are finally (almost) sorted, we can start working out who will be attending in the evening.
The wedding rings have been chosen & paid for: they are made from Welsh white gold. We have also purchased ten disposable camera's and some rose petals to be used as confetti.
February 2003
---
Everyone is invited to wave us off on our honeymoon on Sunday. Everyone except us is invited to Sunday lunch afterwards. Everyone is welcome and should already have been invited. If we forgot to invite you, please consider yourself now invited. And please ensure Kingsley knows you will be attending.
We finally decided on the food and wine for our wedding breakfast. Breakfast on Saturday is at 6pm but lunch on Sunday is around 1pm. We argued long and hard over what deserts to choose and in the end Charlotte turned out to be correct in her assumption that "one of each" was not a valid option.
The evening may last several days if Tom's dad plays all the songs we requested. There will be a 50's/60's musical theme for the evening. So if you have any particular favourites from this era, that have not already been requested, please contact Andy and we will see if we can keep him playing for several weeks.
March 2003
---
Guests may be relieved to know they will not have to stand to eat the wedding breakfast, as we now have a seating plan.
On 22 April, Tom's dad helped him update the list of evening songs. Definites are now definitely definite, possibles are now highly possible and questionables are now very questionable indeed.
Everyone is invited to the Hall after 11am on Sunday, to wave us off on our honeymoon. We will be saying our final goodbyes at 12:30pm, and leaving the Hall at precisely 12:45pm. Mama and Pop have kindly agreed to chauffeur us to the airport.
Whilst we are tucking into our airplane food, all daytime and evening guests are invited to Sunday lunch at a local public house. Please ensure Kingsley knows whether you will be attending.
April 2003
---
This will absolutely be the last update before the wedding. We are now almost married, getting married, honeymooning or recovering from the honeymoon.
Pictures & details from the wedding day and from the honeymoon will appear here (eventually). Please send us any memories or photographs you have of the wedding.
Unfortunately, the Leneveu's have had to rescind their acceptance. We are sorry they will not be attending but delighted to have been able to invite four others we could not fit in to the original guest list. We now have a modified seating plan and guests list. The vows, readings and music for the ceremony have all been approved by the registrar. The cake is made. Clobber has all been purchased. Beautifying appointments have all been made. We are running out of things to do.
If you see Charlotte hobbling, it will be because she is following the tradition of wearing something old, something new, something borrowed, something blue, and a silver sixpence in her shoe.
Just to remind you: we have decided to break with tradition and ask for donations towards our Honeymoon instead of items for our home. If you would like to contribute towards our honeymoon, please contact Kingsley Ash.
May 2003
---
Charlotte Elizabeth Ash and Thomas Caven-Atack were married just after 4pm on Saturday 17 May 2003. Our thanks to everyone who joined us to help us celebrate our marriage. We had a fantastic day which will always be remembered with a wide smile and twinkling eyes. Everything went as planned or better than planned. There were tears during the ceremony, laughter during the speeches and the dance floor was never empty.
June 2003